A George Cross awarded to a wounded soldier who took command of his company after senior officers were killed has sold for a record price of £280,000.
Lt Terry Waters, 21, was one of hundreds of soldiers from the 1st Battalion, Gloucestershire Regiment, that held off 10,000 Chinese at the Battle of Imjin River.
It was a key battle during the Korean War in April 1951.
An auctioneer said it was "one of the most heroic George Crosses awarded."
Lt Waters, from Bristol, was badly wounded in the head and leg during the battle and the regiment held out for three days against overwhelming odds in April 1951.
'Glorious price'
But he was captured and died as a prisoner of war in atrocious conditions in Kangdong Caves, near Pyongyang.
He had refused medical treatment and food in exchange for his participation in North Korean Communists' propaganda.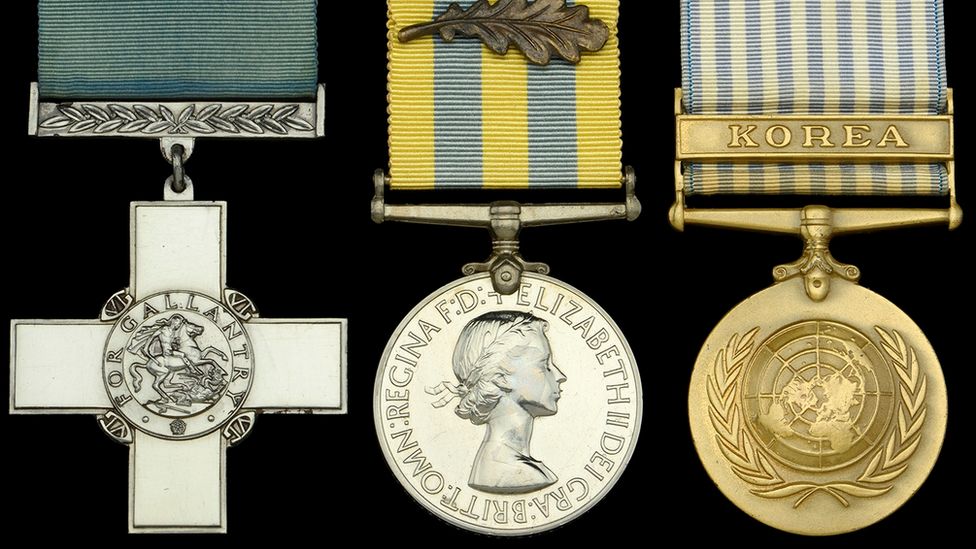 Auctioneer Christopher Mellor-Hill, of Dix Noonan Webb, said: "We are delighted with the attention that this has attracted as it is one of the most outstanding gallantry groups of the 20th Century post WW2, exemplifying the individual bravery of a British officer.
"It is a glorious price reflecting the story of The Glorious Glosters at Imjin River in the Korean War and their bravery in the face of overwhelming odds."
The sum of £280,000 exceeded the record price paid for a George Cross after one awarded to the Special Operations Executive secret agent Violette Szabό fetched £260,000 in 2015.